Registration is open from July 16 - September 20, 2019. For assistance with registration​, hotel accommodations, or to request assistance with booking flights or rental cars, email Atlas Travel.
Registration Fees
Registration: July 16 - August 30th: $600
*Attendees must register and book their hotel room (if applicable) at the same time to receive the discounted registration rate.
Last chance registration: August 30th - September 20th: $750 Professional Van Operator Registration*: July 16 - September 20: $400
*Must be qualified PVO and must NOT have another job in the agency
*PVOs are responsible for guest registration, travel, and hotel accommodations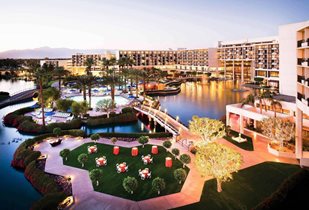 Hotel and Travel Reservations
Hotel reservations in the Atlas room block are made from the hotel website. Click here to make a hotel reservation. Contact Atlas World Class Travel with questions about room reservations and travel assistance. Remember your username and password to more easily make alterations to your reservation.
Hotel Information
JW Marriott Desert Springs Resort & Spa
74-855 Country Club Drive
Palm Desert, CA 92260
For information about amenities and the resort, visit the hotel's website.
Questions?
Get in touch with these Atlas professionals if you need additional help:
General:
Madison Farr (madfarr@atlasworldgroup.com) | 800-638-9797 ext. 2078
Convention Registration:
Jessica Roberson (jesrobe@atlasworldgroup.com) | 800-638-9797 ext. 2954
Atlas World-Class Travel Representatives:
travel@atlasworldgroup.com | 800-638-9797 ext. 1200
Sponsorship and Exposition:
Madison Farr (madfarr@atlasworldgroup.com) | 800-638-9797 ext. 2078
Golf Registration:
Madison Farr (madfarr@atlasworldgroup.com) | 800-638-9797 ext. 2078